Have you ever noticed that movies come out in theme waves? Like all of a sudden there will be two movies out the same weekend about deadly meteors, or volcanos, or illusionists, or computer animated insects. Two Snow White movies?! Weird. Anyway I've been noticing over the years that my inbox works the same way. I'll get multiple requests for the same very random thing around the same time . And lately it seems everyone needs cute little chairs for their cute little kiddies.
We're doing a mix of four different kid chair styles in the girls room at their play table, and I needed to pick up two new ones, so this post was helpful for me too! Win-win!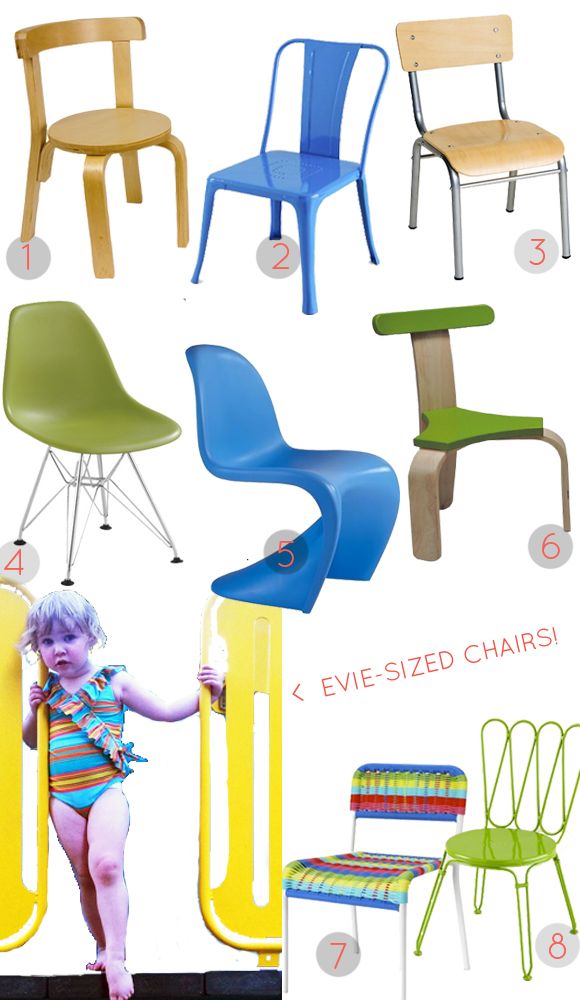 Last night I ended up buying the pink Bertoia and an orange Panton S chair from
this site
. The prices were the lowest I've seen for modern kids chairs. And of course, if you're not wanting to invest a little cash in kid's furniture, IKEA and Target always come through for me. I bought a pair of these bubblegum
pink chairs
a couple weeks ago on clearance for $20 (I only need one though - anyone want the extra chair?). I've got a fun project idea planned for the pink chair. And
one of these old Louis style chairs
is getting reupholstered. Won't that be a fun mix of styles?
Have you seen any really cute kids chairs out there lately? I think I like little chairs to be a bit on the modern side. You?
PS Can you think of other movies with similar themes that came out at the same time? (#TriviaNerd)
PPS I love love love Evie's little chubby thighs. She's two and a half and is starting to lose some of the baby rolls. It is breaking my heart. :(